| | |
| --- | --- |
| | <![if !vml]><![endif]> |
| | |
PPE (Personal Protective Equipment), Sex Toys, Sanitiser, etc

Date:

Ended on Wednesday 20th October

<![if !vml]><![endif]>

Collection:

Thursday 21st October: 10am until 12 noon and 1pm until 4pm

Friday 22nd October: 9am until 12 noon and 1pm until 4pm
Contract Furniture, Period and Later Furniture, Gym Equipment, etc

<![if !vml]><![endif]>

Online Auction- iBidder and Bidspotter

Date:

Ends from 7pm on Sunday 24th October

Details:

Contract Furniture including bar stools, stacking chairs, dining chairs, tables, Rattan chairs and

tables, Industrial finish coffee tables, entertainment units, etc

Gym equipment including 2 x Matrix Half Racks, 2 x Matrix Steppers, exercise bike, etc

Period and later furniture, pictures and prints

Vinyl records (mainly 90s/00s)

Halloween doormats and Christmas doormats and cushions

<![if !vml]><![endif]>

Viewing:

Friday 22nd October 2021 2pm until 4pm only (no appointment necessary)

Collection:

Monday 25th October: 1pm until 4pm

Tuesday 26th October: 9am until 12 noon and 1pm until 4pm
Surplus Electrical Materials (Sheffield Area)

<![if !vml]><![endif]>

Online Auction- iBidder and Bidspotter

Date:

Ends from 7pm on Monday 25th October

Details:

Including mixed MCBs, New CAT5E cable and vintage lamps, etc

Electric radiators

<![if !vml]><![endif]>

Viewing:

Wednesday 20th October and Thursday 21st October, 9am – 12 noon only at

No. 34 Edmund Road, Sheffield, S2 4EA

Collection:

Wednesday 27th October: 9am until 12 noon

Thursday 28th October: 9am until 12 noon

New Retail Stock, Consumer Goods and Associated Items on behalf of UK Wholesaler

(Cleckheaton)

<![if !vml]><![endif]>

Online Auction- iBidder and Bidspotter
Date:

Ends from 7pm on Monday 1st November 2021

Details:

New retail stock, consumer goods and associated items on behalf of UK wholesaler, including:

Electrical Goods

Car Accessories

Toys

Bags

Clothing

Baby Accessories

Tools

Homeware, etc

<![if !vml]><![endif]>

Viewing:

Friday 29th October from 10am until 4pm only (no appointment necessary) at Units 40-41

Acorn Business Centre, Law Street, Cleckheaton, BD19 3QR.

Collection:

Wednesday 3rd November from 9am until 4pm

Thursday 4th November from 9am until 4pm
Books, Postcards, Stamps, Ephemera, Ceramics and Collectors Items

<![if !vml]><![endif]> 

Online auction – the-saleroom, i-bidder and bidspotter

Ends from 7pm on Monday 8th November 2021

Details:

Books including local history, railway interest, three copies of Mein Kampf, Forget-Me-Nots for Fighters by No 13 Group RAF, gardening,

Postcards including humorous, Yorkshire, Jersey, Isle of Man, Isle of Wight, topographical, song postcards, Mabel Lucie Attwell, Mollie Grey, Nora Annie Birch, Dudley, etc.

Cigarette cards

Photographs including trams

Theatre programmes

Nine albums of facsimile photographs and ephemera relating to Leeds, Maps relating to Hunslet/South Easy Leeds Clearance project,

Stamps, albums and loose

Miners lamps, military aviation compass, TG Co Ltd military compass, James Heeley & Sons corkscrew, Nottinghamshire Constabulary policeman's night helmet, miniature Len Hutton presentation cricket bat, pin badges, military badges, Concorde slight memorabilia,

By appointment

Friday 5th November from 2pm until 5pm

<![if !vml]><![endif]>

Collection:

Tuesday 9th November from 10am until 12 noon and 1pm until 4pm

Wednesday 10th November from 9am until 12 noon and 1pm until 4pm

Residual Contents of a Dismantling and Re-Processing Business

<![if !vml]><![endif]>

Online auction – i-bidder and bidspotter

Ends from 7pm on Monday 8th November 2021

Details:

On kind instructions from Beechwood Services who are ceasing operations.

Garage Equipment

Kabota 3 cylinder mobile compressor

Transom and tig welders

Bradley 4-post lift

Beissbarth tyre changer and wheel balancer

Karcher commercial pressure washer

Rapidor metal hacksaw

Clarke compressor

Trolley jacks, drill and other equipment

Forklifts: Two Toyota Tonero 25 forklifts

Recovery Vehicles: Two Leyland Daf sliding body car recovery vehicles

Cranes: Two Case 10-88 cranes with Strutt grabs

Car Processing Plant

Self-feeding 27 ton hydraulic twin ram car body crusher

Purpose built de-pollution plant for oil and other fluids

Oil filter and wheel crusher, etc.

Miscellaneous: 22' metal security office unit, metal bunded diesel tank, van and other bodies for storage, sheds, etc.

Viewing:

By appointment

Thursday 4th November and Friday 5th November from 10am until 3pm

at Beechwood Services, Market Weighton Road, Holme on Spalding Moor, YO43 4ED

<![if !vml]><![endif]>

Collection:

Please note: The invoices for this auction will be emailed out on Tuesday 9th November.

By appointment

Wednesday 10th November: 10am until 3pm

Thursday 11th November: 10am until 3pm

Friday 12th November: 10am until 3pm

Please note that all items must be collected on the above dates as the site has been sold and there will be no access after Friday 12th November.

David Winter Cottages and Castles, other ceramics

<![if !vml]><![endif]>

Online auction – the-saleroom, i-bidder and bidspotter

Date:

Ends from 7pm on Monday 15th November 2021

Details:

A large collection of David Winter Cottages and Castles

Other ceramics

Viewing:

By appointment

Friday 12th November 2pm until 5pm

<![if !vml]><![endif]>

Collection:

Tuesday 16th November from 10am until 12 noon and 1pm until 4pm

Wednesday 17th November from 9am until 12 noon and 1pm until 4pm
Live internet bidding available for all our sales via
<![if !vml]>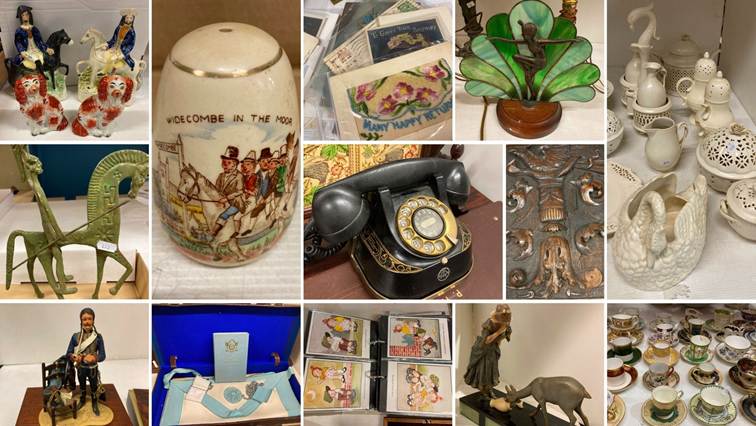 <![endif]>
Important Notes
All C. W. Harrison & Son sales are held under instructions received from Liquidators, the Insolvency Service, the H.C.E.O., under distress warrants for rent and Council Tax, H. M. Revenue & Customs and other sources. Clientele are strongly advised to inspect our conditions of sale. These are shown in all our catalogues, on our website www.cwharrison.com, or by request.
VAT: Sale on a VAT exclusive basis. VAT at the appropriate rate to be added to the amount of the final bid. Items subject to VAT are marked with an * in the catalogue, all lots marked M are subject to the VAT Margin Scheme and all lots marked Z are zero-rated.
Buyers Premium: Would clientele please note that a Buyers Premium of 15% plus VAT will be applicable on all lots.
Payment: The Conditions Of Sale refer strictly to a CASH settlement. Cheques will not be accepted unless arrangements are made with the auctioneer's offices prior to the sale day. Payment can also be made by credit and debit cards (customer, not present transactions not accepted), bank transfer or bank draft.
Money Laundering Regulations: Under no circumstances can C. W. Harrison & Son accept cash payments in excess of £7,000
Please Note:
1 Official proof of identification must be produced to obtain a bidding card (i.e. driving license or another official document with name and current postal address thereon), otherwise a refundable cash deposit of £50.00 (£200.00 if bidding on vehicles) must be paid to the Registration Clerk - WITHOUT EXCEPTION.
2. Due to insurance company requirements, the Auctioneers' staff are no longer able to assist with the loading or unloading of customers vehicles.
3. The Auctioneers' staff are no longer able to bid on behalf of clientele except on the basis of the proxy form.
4. Would clientele wishing to bid for private and business purchases please obtain TWO bidding cards, as NO splitting of invoices can be done after the sale.