Details:
Design and collectors sale to include a selection of blonde Ercol furniture, Ercol Renaissance daybed and two chairs, Ercol medium wood sofa and two chairs, pair of Ladderax wall units, other 1950s-1970s furniture, Barker & Stonehouse marble finish console table and two matching coffee tables, large Edwardian mahogany wardrobe, other Victorian, Edwardian and 20th century furniture, boardroom chairs by Gordon Russell and others, Samsung 60" TV
Pictures and Prints
Large selection of Ceramics including Doulton, Spode, Coalport, Worcester and a collection of 20+ Royal Crown Derby animal paperweights, Border Fine Arts figures, Meissen bowl, pair of continental vases and covers, etc.
Glassware to include paperweights
<![if !vml]>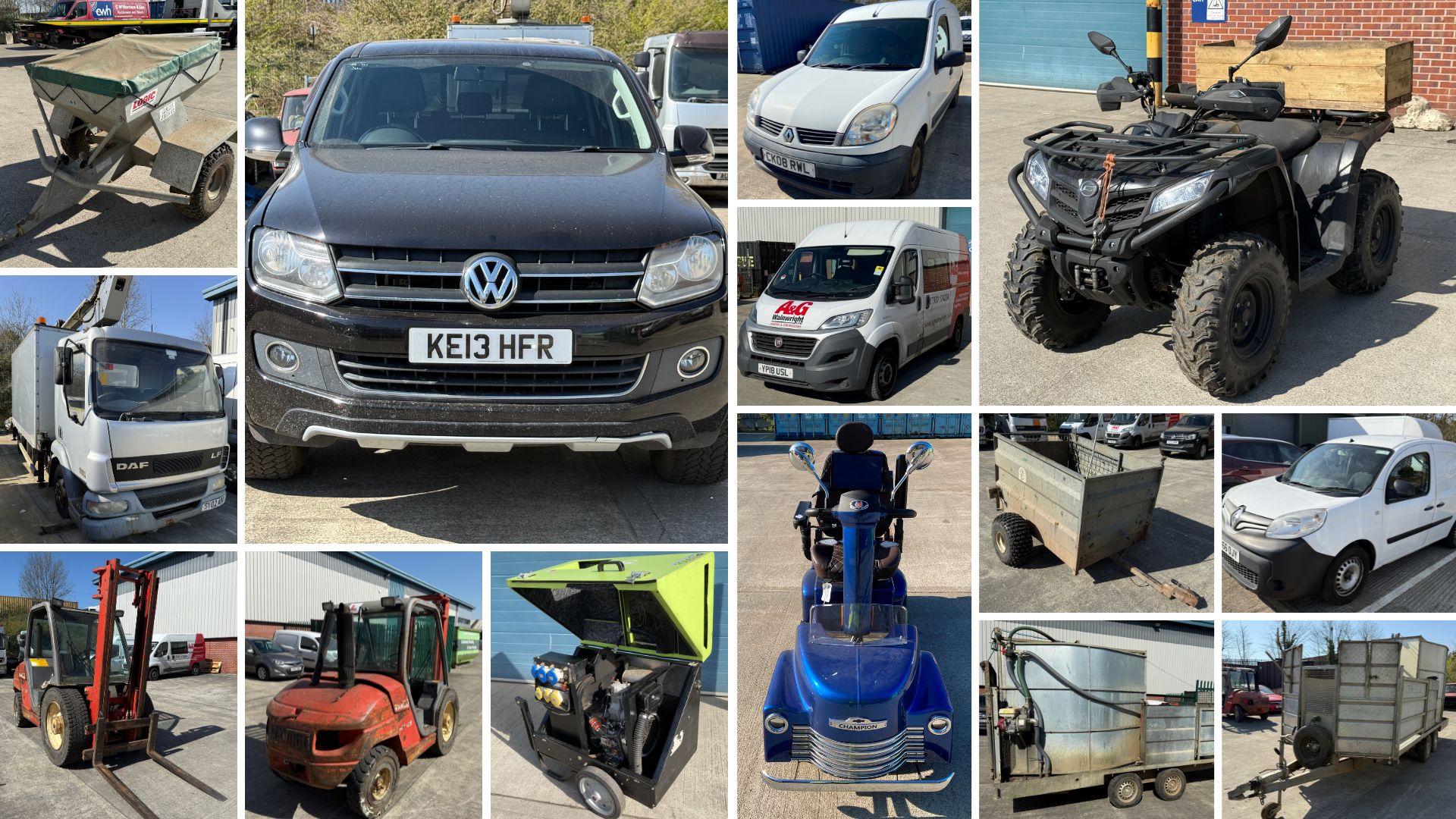 <![endif]>
At 1pm prompt
Three Vintage Rare Vehicles and a Tractor – Barn Find Chevrolet cattle truck/horse box, 1st registered July 1929 c/w original registration book, a 1921/22 Studebaker Light Six Tourer, a Renault 5 Gordini Turbo 1.4 (83) and a 1954 grey TED Ferguson tractor
Vehicles to include, Citroen C4 Picasso (58), Ssangyong Sports Musso 2.9 Pickup (05) (rare vehicle), Toyota Corolla Verso (08), Vauxhall Meriva Design (08), Peugeot 307 diesel estate (06), Landrover Freelander petrol estate (88), Vauxhall Astra (07), BMW X5 (4x4 private plate), Mercedes Vito III CDi Compact van (10),  Bailey Pageant Bordeaux Series 5 4 berth caravan (04) and other vehicles received prior to sale
Cherished Registration Numbers:  43 BE and XRB 82
Printing machinery to include plan printers/plotters – 2 x HP Design Jet Z6100s, Epsom Stylus Pro 7890 and Pro 7900, large manual guillotine with table, Siat Gramegna Pony packaging machine, Nu-Air mobile compressor, Cassesse double mitre cutting saw
Gym Equipment – lots 500z-606 *: 100+ lots to include Precor USA treadmills, cross trainers, striders, weight and resistance machines, dumbbells. Concept 2 Rowers, Power Plates etc.
Details:
Collectors sale to include silver, silver plate, gold, jewellery, watches, stamps, coins, medals and militaria, collection of 20+ percussion guns, toys, games, books (cricket, RAF, childrens and other related), RAF and plane prints, vintage clothing, brassware, electrical and other equipment